Another Bay Area story … When I lived in San Francisco, a friend recommended a restaurant to my sister for our Sunday brunch. It was Guaymas, located in Tiburon on the water.  I'm not sure if it's there any longer, but it should be. It was outstanding! Their stuffed poblanos became one of our favorite weekend meals and one we shared with lots of friends over the years. There was nothing like sitting in the sun by the water, enjoying a big plate of culinary perfection with a cold beer. Best Sundays ever.
Chiles en Nogada is a green roasted poblano chili traditionally stuffed with beef, but pork or chicken are often used in recipes. The peppers are covered in a walnut cream sauce and sprinkled with pomegranate seeds. It sounds fancy and complicated, but it's not a difficult dish to pull together. I've made this recipe several times.  It's not Guaymas' Chiles en Nogada, but darn close!
Ingredients
I found that cutting the tops off and pulling seeds and membrane out is easier to do when the poblanos are raw.  Once you have done this, place the chilies directly on the grate for your grill or over the flame of a gas stove and grill until skins are charred. Turn to char opposite side. (you can do this under a broiler as well). Once charred, place in a paper bag to let peppers steam. Once cooled enough to handle, remove charred skin and lay peppers on a parchment lined sheet pan until ready to fill.
Filling
2

lb

 boneless, skinless 

chicken breasts,

 poached (see poaching suggestion) and shredded

2

T extra virgin olive oil

2

 C white onion, finely 

diced 

1 tart organic apple

, diced (Granny Smith or Pink Lady work well)

4

cloves

 fresh 

garlic

, minced

1 organic pear

, diced (Bosc pears are firm and work well)

1/2 C 

dried apricots, diced

1/4

 C 

dried cherries or cranberries

1/2 C yellow raisins, softened

2 tsp dried Mexican oregano, not ground

2

tsp

toasted ground cumin

1

 

tsp ground cinnamon

1

C

white wine

3

T

 organic 

tomato paste

1 T organic sugar
1 tsp lemon zest
Kosher salt & cracked black pepper to taste
The best method for the chicken breast is to poach first. Roasted pulled chicken breast can be used, as well, but we found the poached more juicy. Poaching the chicken requires about 30 minutes. Place in a pot with 4-5 halved tomatillos, 5 smash garlic cloves, one bunch of cilantro, 1 tablespoon whole peppercorns, 2 bay leaves and a teaspoon of salt. Add chicken stock to cover breasts and simmer on medium low heat for 30 minutes. Remove chicken to cool. Shred with forks when cooled. (reserve chicken stock for other uses)
In a sauce pan, add olive oil, diced onion and minced garlic. Saute for 3-5 minutes until softened. Add in diced apple, cumin, dried fruits, oregano, cumin, cinnamon.  Saute for 4-5 more minutes.  Add wine and tomato paste, stir in and cook for 5-6 minutes.  Add shredded chicken and combine all ingredients well.  Season with salt and pepper and set aside until ready to stuff peppers.
Walnut Cream Sauce 
2

C raw whole or halved walnuts

1/4 C raw whole almonds, skins removed

2

cloves

fresh peeled 

garlic

, minced

2

C

heavy cream (you need full fat for this dish)

4

oz queso fresco (about 1 cup), crumbled

1/4

tsp

ground cinnamon
In blender, add all ingredients and blend until smooth.  Set aside until peppers are stuffed with filling.
Garnishes
1

C pomegranate seeds

1/2 C organic Italian parsley, chopped

1/2 C toasted pepitas
Preheat oven to 375.  Stuff each pepper until bulging.
Portion of stuffing depends on size of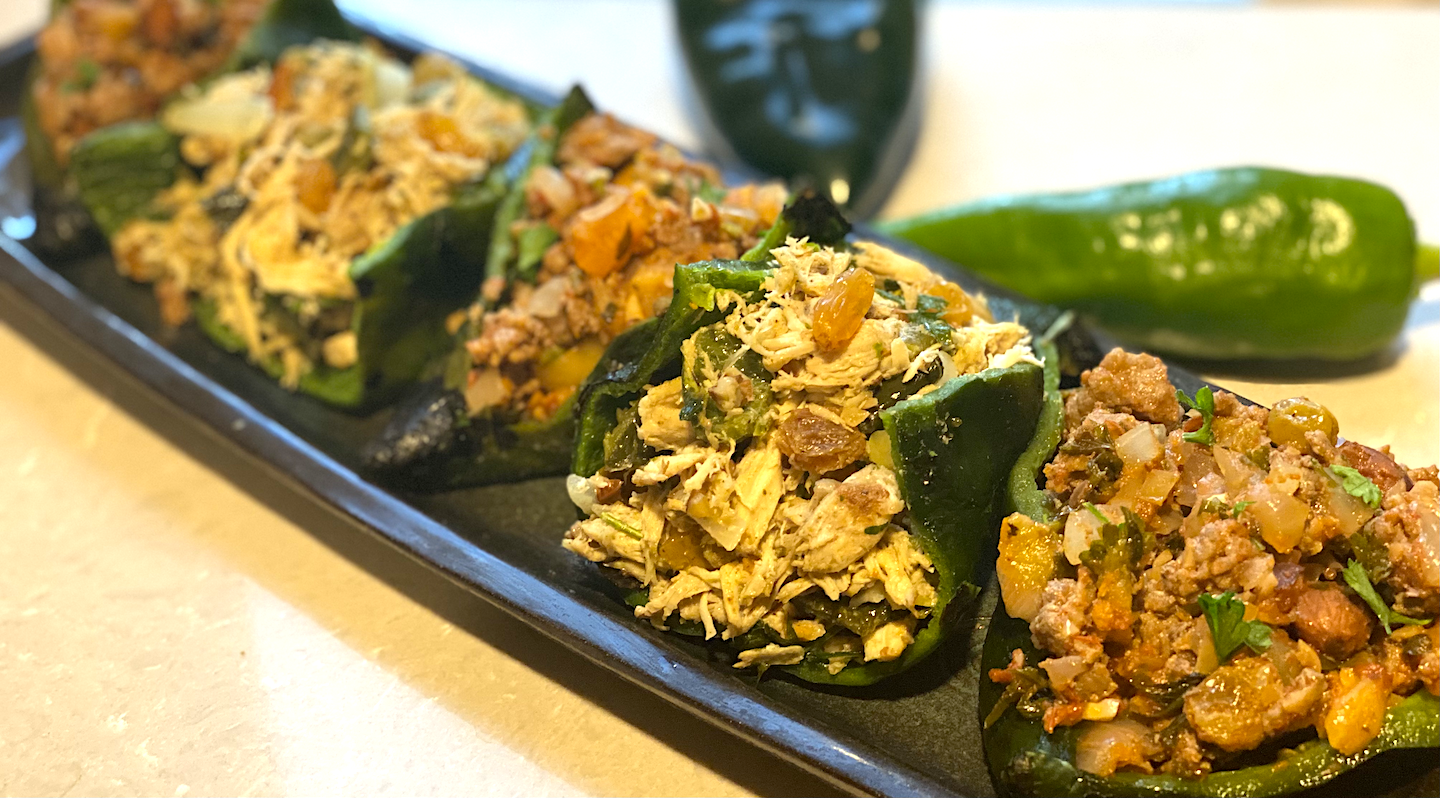 peppers, but stuff them well.   Warm in oven for 10-12 minutes.  Remove and top peppers with the Walnut Cream Sauce and garnish with pomegranate seeds, parsley, and toasted pepitas.  Serve with lime wedges.